KLIK HIER VOOR INFORMATIE
OVER DE SITE

RUNDVEE-INSEMINATIE

EN VRUCHTBAARHEIDSPROBLEMEN BIJ KOEIEN

CLICK HERE FOR
THE PARENT SITE
and SITE SEARCH
JUST WONDERING WHAT HAPPENS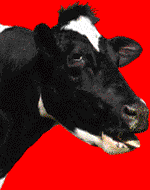 Being inseminated, she stands still.

She's not afraid of it.

But yes,........she looks to be nervous.

She might prefer it the old-fashioned way.

And the bull....?

He's not there.

But believe it, or not.

He's quite content with it.

There are too many these days.

He can't do it the proper way.

It wouldn't work at all.